I'm joining Kim aka Twila at Twice Remembered Cottage for her Fifth Annual Cottage Charm Giveaway. This is a blogwide giveaway of all things cottagey. I joined last year and had a lot of fun. Make sure you hit the link buttom below to jump over to her blog to see all the other lovely offerings.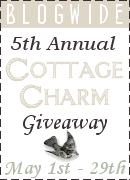 Last year I gave away a sweet apron I had made. This year I am giving one lucky winner these two charming vintage aprons. I found them at a garage sale last summer and have been saving them since. They are charmingly embroidered but the stitching is so even and perfect I think they are most liely machine made. It doesn't detract from their charm.
One has several pin size holes, but this is to be expected with vintage, well loved and used aprons.
To enter please leave a charming message in the comments. This giveaway is only open to US and Canadian residents. I will draw a random name on May 29 and post the winners name then. Feel free to become a follower, however it is not necessary, just make sure I can email you when you win!
Please check out my etsy shop to see the aprons I ahve made that are for sale.
Good luck, cottage lovers!
Jeannine